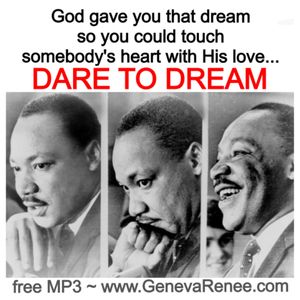 Happy Martin Luther King Day!!!
More than 50 years after his "I Have A Dream" speech, Dr. Martin Luther King Jr. remains an iconic example of courage for the sake of peace. I hope my
brand new single
"Dare To Dream"
will help you celebrate his legacy and encourage you to never give up on your dreams.
Click here to download my NEW song "Dare To Dream" for free
~~~~~~~~~~ 
THANK YOU to all of you who came to the Howard Theater last week and surprised me with your smiles and hugs and shouts of love from the audience!!! Thanks also to everyone who blasted my phone with texts, voice, and social media messages! I see each and every one of you as angels kisses! The experience was so much fun, and I truly appreciate your support!
This was a true example of the old saying "when one door closes, another one opens"

~~~~~~~~~~
 
More exciting news: I have been selected as a finalist in the
National Cherry Blossom's first ever Sing Into Spring
contest where I will compete for a spot to perform during the Cherry Blossom Parade! The contest, hosted by American Idol's
Justin Guarini
, is open to the public and will be next Monday, January 27th at DC's Hard Rock Cafe!